Third Republican Commission Candidate Endorses Bob Anthony
June 28, 2018
Teacher and counselor Harold Spradling, who finished third in Tuesday's Republican primary for Corporation Commissioner, endorsed incumbent Bob Anthony today, saying Anthony has done a great job in the post and should continue.
"Bob Anthony is a man I greatly admire," Spradling said. "His record proves that he stands up for consumers and against corruption. He's brought transparency and auditing and fairness to the Corporation Commission, and we still need him looking out for us and fighting for us. I'm grateful he's willing."
Spradling, who actually contributed to Anthony's campaign before the primary, said he would be campaigning for Anthony in the runoff and beyond. "I've enjoyed getting out on the campaign trail this year, meeting the people. I told Bob my support for him wouldn't just be nominal; I plan to continue to get out there – only speaking up for him this time."
"I'm honored to have Harold's support," said Bob Anthony. "He believes, as I do, that public service should be about serving the people, not lining your own pockets. My remaining opponent and I both have long records in public office. I'm pleased Harold has examined them and decided my record of honesty, fairness and protecting consumers is the one that should continue."
Asked why, at 84, he ran for the office to begin with, Spradling said, "My beef was never with Bob Anthony. I was mad at Washington and the hateful, vindictive tone of everything. I wanted to show you can run for office and still be honest and decent. I've done that; so has Bob Anthony. Now I'll carry the torch for him."
The Runoff Election is August 28.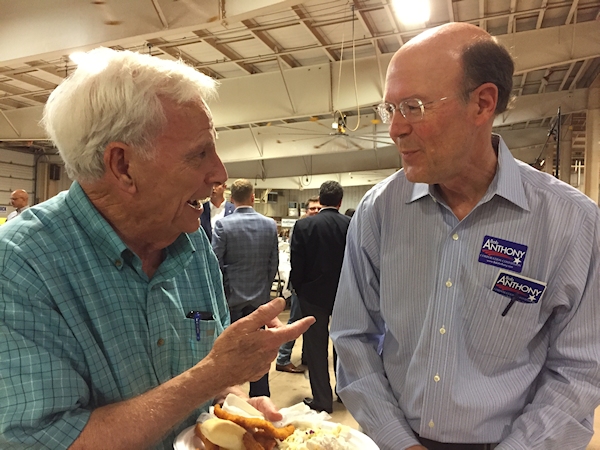 PHOTO: Republican Corporation Commission Candidates Harold Spradling and Bob Anthony together on the campaign trail in Duncan, OK.
***
Released by Oklahomans for Anthony and Harold Spradling.
(Download this release in .DOC format.)

Return to the News Releases main page.