State AARP Recognizes Bob Anthony
Grove Sun Daily - February 10, 2006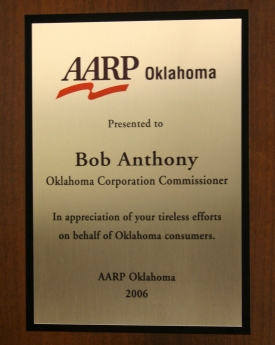 Edmond, OK -- AARP Oklahoma presented Oklahoma Corporation Commissioner Bob Anthony with an appreciation award for his ongoing support of Oklahoma consumers recently. Anthony, who has served on the Corporation Commission since 1988, was honored during a luncheon featuring AARP Oklahoma volunteer leaders from across the state.
"Bob Anthony has been a long-time supporter of consumers in the rate regulation process," said Bob Bristow, AARP OK State President. "Our 406,000 members appreciate Bob for doing the right thing in the fight for affordable utilities."
Bob Anthony won election to his third consecutive six-year term on the Oklahoma Corporation Commission in November 2000, receiving more votes than any candidate for state office in Oklahoma history. Anthony was first elected to the Commission in 1988 becoming the first Republican elected to that body in 60 years, receiving more votes than any Republican since statehood. In 1994, Anthony became the first Republican incumbent in Oklahoma history to win reelection to a statewide office. He has now served continuously as a state official longer than any Republican elected on a statewide basis.
In 1995, the FBI recognized Anthony with its highest award given to a citizen who, "at great personal sacrifice, has unselfishly served his community and the nation."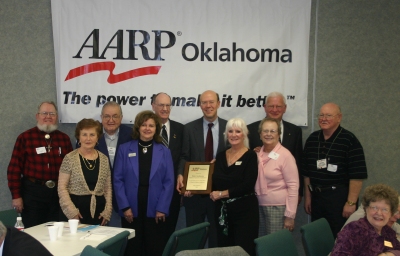 In addition to holding public office, Anthony currently is a member and past-president of the Economic Club of Oklahoma, a board member and past-chairman of the Crown Heights United Methodist Church, and serves on the board of Skyline Urban Ministry. Prior to joining the Corporation Commission he served on the boards of the Oklahoma State, Oklahoma City, and South Oklahoma City chambers of commerce; Oklahoma Historical Society; the Oklahoma Science and Arts Museum; Liberty National Bank; Banks of Mid-America, Inc.; the Dale Rogers School for Retarded Citizens; and, the Kirkpatrick Center. Anthony has also held positions with Oklahoma City University, Leadership Oklahoma, Leadership Oklahoma City, O.I.C., the YMCA, Contact, Children's Medical Research Center and Hospital Hospitality House. Anthony served as president of the C. R. Anthony stores from 1980-87 when the company was the largest privately owned firm headquartered in Oklahoma.
"It is a great honor to receive recognition from such a civic-minded organization as the AARP" Anthony said.
He summarized his motto for serving on the Commission as "Give 'em justice, whether they want it or not." "I believe commissioners should listen, ask tough questions, be fair, do their duty, care about the general welfare and common good."
© 2006 Grove Sun Daily

Return to Bob in the News.