Top State Vote-Getters
The Friday - September 12, 2003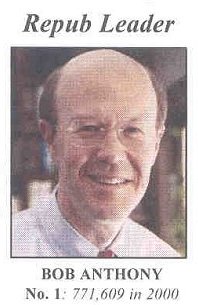 Of all the statewide office holders, and those who sought to be in the past four general elections, Corporation Commissioner Bob Anthony is the most popular in the poll that counts, the election day ballot box.
The 771,609 votes he got in the last general election (2000), were more than any candidate received from 1996 to the present. He even topped President Bush, who swamped Al Gore in Oklahoma with 744,237 votes.
A FRIDAY check of official returns at the State Election Board revealed that the three most popular were Republicans and the next three were Democrats. U.S. Senator Jim Inhofe and Lt. Gov. Mary Fallin made the Top Ten list twice.
Attorney General Drew Edmondson, No. 4 in the total list, was No. 1 among Democrats, with 615,932 votes in his 2002 election campaign.
Five candidates placed twice on the master list of those getting 400,000 or more votes. The Top Ten were: 1. Anthony; 2. Bush; 3. Inhofe; 4. Edmondson; 5. State Superintendent Sandy Garrett 609,851; 6. Insurance Commissioner Carroll Fisher 586,871; 7. Lt. Gov. Mary Fallin 585,712; 8. Inhofe (2002) 583,579 (the only candidate with two spots in the top 10); 9. Presidential candidate Bob Dole 582,315; 10. U.S. Senator Don Nickles 570,682.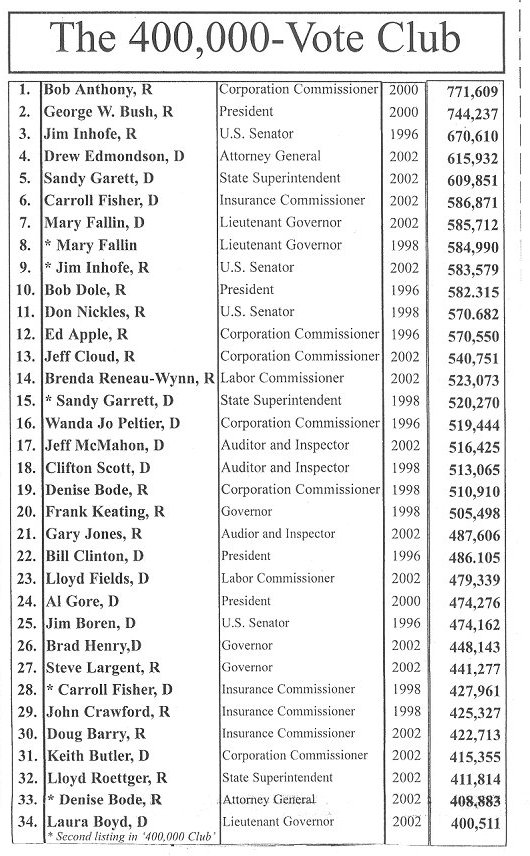 © 2003 The Friday

Return to Bob in the News.