Bob Anthony -- Remembering Dale Rogers' Past
Dale Rogers Training Center Quarterly Newsletter - March 2004
A non-profit organization founded in 1953, the Dale Rogers Training Center (formerly the Dale Rogers School for Retarded Children) is Oklahoma's oldest and largest community vocational training and employment center for individuals with disabilities. For more information visit DRTC.org.
Bob Anthony, as most Oklahomans are aware, is a past president of C.R. Anthony's and has served as Corporation Commissioner for the state of Oklahoma for three consecutive six-year terms. Some Dale Rogers' supporters might argue that his greatest achievement was beginning an endowment fund for the agency and serving as board president.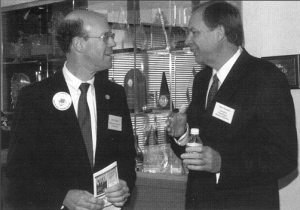 Corporation Commissioner Bob Anthony, former DRTC board president (left), talks with current Board President Marc Edwards (right) during the center's 50th anniversary VIP Luncheon on Oct. 17, 2003.
It was his foresight in the mid-1970s that saw a need to secure the future of an agency that had provided hope for hundreds of individuals with disabilities and their families.
"Maybe I had a different perspective as a business person because sometimes people need to think long term," said Anthony. "With an endowment, I believed people in the community would take us more seriously because we would be looked upon as a long term agency." Anthony worked with the Harris Foundation to set up the endowment in hopes of stabilizing the future of the agency.
"Bob Anthony is one of the reasons Dale Rogers has thrived for more than 50 years," said Connie Thrash McGoodwin, executive director. "Bob was a volunteer who saw a need and took action that helped Dale Rogers remain on a positive course."
Anthony first became involved in Dale Rogers Training Center in 1974 after a staff member called to ask Anthony's family to donate folding chairs to the school.
Instead, he wrote a check for $1,000 to cover the cost of chairs and other needs.
Anthony was already familiar with the agency due to a gift-bow-making contract already in existence with a department store chain his grandfather founded called C.R. Anthony's. The contract involved individuals with disabilities making bows for the company's 300 stores, which spanned across 21 states.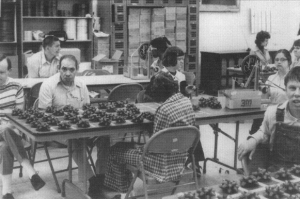 With donated equipment from Streets Women's Specialty Shops, individuals at DRTC began in 1965 making bows for the more than 300 C.R. Anthony stores nationwide. Fifty bows made up each box. The tables were taped with 10 columns and 5 rows. When all spaces were filled, the bows were scooped into a box and ready for delivery.
"I am proud of the fact that Anthony's supported the school by giving them that contract," said Anthony. "That just shows the miraculous achievement that has happened since then because of the high-quality contracts Dale Rogers has today; but it took a long time to get there."
Dale Rogers' sheltered workshop program currently has more than 130 sub-contractors serving 43 companies. Dale Rogers also offers products produced in the agency's awards manufacturing business to companies worldwide.
It was not long after Anthony made his first donation that he was contacted once again. "Pat McFarland [executive director, 1973-1977] called and asked if I could be on the board," said Anthony. Anthony agreed and at his first board meeting he was elected vice president. A couple of months later, he moved up a rank to president.
Anthony offered a different perspective on the board. He was the only board member at the time that did not have a history with someone who was mentally retarded. He was a businessman determined to help the agency grow and flourish and be more financially stable.
"I'm proud to have served on the board when the resources and the government and community support were so small," said Anthony. ""We tried to have a business-like operation to provide a foundation to grow for the future."
Anthony said while serving as president, the operations of the agency and day-to-day struggles with equipment and maintenance were major issues. "Mrs. Pat McFarland would call me and the yellow school bus would have broken down again and the kids would be waiting there sitting on the bus," said Anthony. "It was tragic that the maintenance on the bus was such a challenge."
Anthony said even in the midst of financial and other trials, the board and parents were determined not to give up. "One of the things that impressed me most was how they were totally dedicated and committed to providing a service with virtually their own resources."
Anthony had the honor of returning to the center on October 17, 2003 to be part of the 50th anniversary celebrations. "I had an indescribable sense of accomplishment, not for myself, but for the parents in the 1970s who had worked so hard to keep the agency up and running and have a solid foundation for service and programs."
Anthony said he is proud to see the success of the agency, as it did not come easy. "It was a gradual building process with deep commitment on the part of the parents and supporters," said Anthony. "It's a wonderful story and an example of what makes America great."
© 2004 Dale Rogers Training Center

Return to Bob in the News.