SW Bell education plan draws mixed reception
by Bob Vandewater
The Daily Oklahoman - November 30, 1999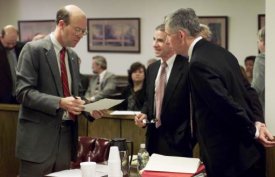 Okla. Corporation Commissioner Bob Anthony, left, speaks with Curtis Long, center, an attorney for Southwestern Bell Telephone, and Robert E. Stafford, right, a Bell vice president, during a recess in Monday's hearing at the Corporation Commission on Bell's request for changes in the way it is regulated in the state.
Southwestern Bell drew both criticism and praise Monday for its commitment to pay $30 million into an Oklahoma education fund as part of its proposal to loosen the way it will be regulated in this state.
At a public hearing before the utility-regulating state Corporation Commission, Sen. Cal Hobson, D-Lexington, said he believes Bell can afford much more than $30 million for education, and Oklahoma schools need more.
Hobson, chairman of the state Senate Appropriations Subcommittee on Education, said, "We (Oklahoma) are 50th in the nation in computer availability, technology availability in our public schools.... Southwestern Bell, being a major corporation ... should, in my opinion, step up and help us fill that need."
However, Sen. Glenn Coffee, R-Oklahoma City, said, "The question I think that is relevant today is: Why are we in the business of telling a private enterprise that they have to contribute dollars to education?"
Although schools need more money for technology, Coffee said, "I think it sets a dangerous precedent that, just because we have limitations on tax dollars in this state, we go down the road of beginning to say because we're going to deregulate your industry - whatever business it may be - that you owe us so much money...
"I think that's a dangerous step. What business is next? What message does this send to businesses that want to come to this state if they feel that they're going to be asked (for money) involuntarily?"
Robert E. Stafford, Southwestern Bell area vice president, said the $30 million the company has agreed to pay to establish an "education information technology fund" was part of a broader agreement unveiled Monday.
The agreement was supported by Bell, the commission's utility division staff, the attorney general and others.
Oklahoma Education Association President Carolyn Crowder, speaking on behalf of several education groups, said that coalition supports the proposal to set up an education technology fund.
"The fund will be established as a private endowment, with the Oklahoma Academy for State Goals handling the creation of the fund," she said.
In the case in which the agreement was negotiated, Bell is seeking to come under a new form of regulation for its Oklahoma phone utility operations.
Past regulation of Bell's rates and finances in this state focused on earnings and returns on investment.
The commission recently developed rules that would let Bell, subject to some conditions, instead seek to come under a form of regulation focusing more on whether rates and prices are reasonable and competitive.
Alternative regulation, if approved for Bell, also could cap the phone company's basic local service rates for five years and allow adjustments to rates for emerging competitive and optional services within certain limits.
To qualify for alternative regulation, the phone company had to propose to do things aimed at spurring competition in its local phone service markets in Oklahoma and benefiting customers.
The commission might decide as soon as today if Bell's agreement and proposed commitments are sufficient to grant alternative regulation to the company.
The $30 million of education funding is one of the proposed commitments.
Others include the company's agreement to provide discounted rates for prospective local phone service competitors that lack complete networks of their own to use parts of Bell's Oklahoma network - a move that could spur local competition.
Stafford said Bell also agreed to deploy telecommunications technology in 22 nonmetropolitan cities around the state that will be especially useful to businesses and others with high-speed telecommunications and data transmission needs.
For example, it might allow access to the Internet faster in some areas.
Cities on the list to get the new technology range from Ada and Altus to Duncan, McAlester and Woodward.
If not for the agreement, the smaller cities on the list would not be in Bell's current plans to get the new technology, Stafford said.
More technology also will be deployed in the Oklahoma City and Tulsa areas.
The agreement also calls for Bell to replace all of its remaining analog type call-routing switches with new digital switches with greater capabilities.
Bell's cost to do all the upgrades and technology deployment called for in the agreement was estimated at about $200 million.
© 1999 The Daily Oklahoman

Return to Bob in the News.